SEAFOOD PRODUCER WHOLESALE/RETAIL DISTRIBUTOR
HACCP Certified
Specializing in and
Louisiana Seafood and Food Products
Give Us a Chance to Match or Beat Anyone's Crawfish
and Louisiana Seafood and Food Products Prices!!!
#1 Shipper of Live Crawfish in the U.S. and the Only Year Round Shipper of Live Crawfish in the U.S.
Louisiana produces 90% of the World's Crawfish
Some items have pictures - to view picture click on items that are underlined.

Mardi Gras King Cake
3-1/2 cups sifted flour
1/2 cup softened butter
1/4 cup sugar
2 tsp cinnamon
1 pack active dry yeast
green, red, blue, & yellow food dye
1 tsp salt
3/4 cup granulated sugar, divided into 1/4 cup each
1/2 cup water
1/2 cup milk
1 cup powdered sugar
1/4 cup butter
1 tsp vanilla
1 egg
2 Tbsp milk
1-1/2 cups brown sugar
1 inch plastic baby doll (optional)

In large bowl, mix 1 cup flour, sugar, yeast and salt. Heat water, 1/2 cup milk, and butter until butter melts. Add to flour mixture and mix well. Add egg and 1 cup of flour to mixture and mix well. Gradually add remaining flour until dough is stiff. Knead dough for 5 minutes (add flour as needed). Place in large bowl and cover with a towel. Place in warm area until doubled size (about 1-1/2 hours). Meanwhile, mix brown sugar, butter and cinnamon; set aside. Place dough on floured board and knead. Divide dough in half and roll out 1/2 into oblong rectangle shape. Spread 1/2 of cinnamon mixture on dough and roll dough to make a thin loaf shape. Repeat with remaining dough and cinnamon mixture. Wrap the 2 loaves together to form one braided loaf. Pinch the ends together to have the loaf form an oval. Cover with wax paper and a towel and place in a warm area to let rise, about 1-2 hours. Bake in oven at 375 degrees for 25 minutes. While cake is baking, make colored sugar for topping by mixing each of the separated 1/4 cup granulated sugars with food dye to make green, purple and yellow sugar; set aside. Prepare glaze by mixing powdered sugar, vanilla and milk; set aside. When cake is cool, pour glaze over cake. Sprinkle with colored sugars.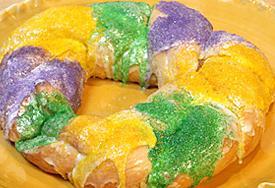 A page of recipes is provided with your crawfish order.